Poland's Turn? The Mies van der Rohe Award 2013
Twenty-five years have passed since the Mies van der Rohe Award was established. So far, only four Polish structures made it to the short list of best European architecture. Do Polish buildings have any chance for the finals, or for winning? What are the criteria, according to which architecture is judged? Ewa P. Porębska, a jury member in this year's edition of the competition, talks with Grzegorz Stiasny about the work of the jury and the message carried by the award.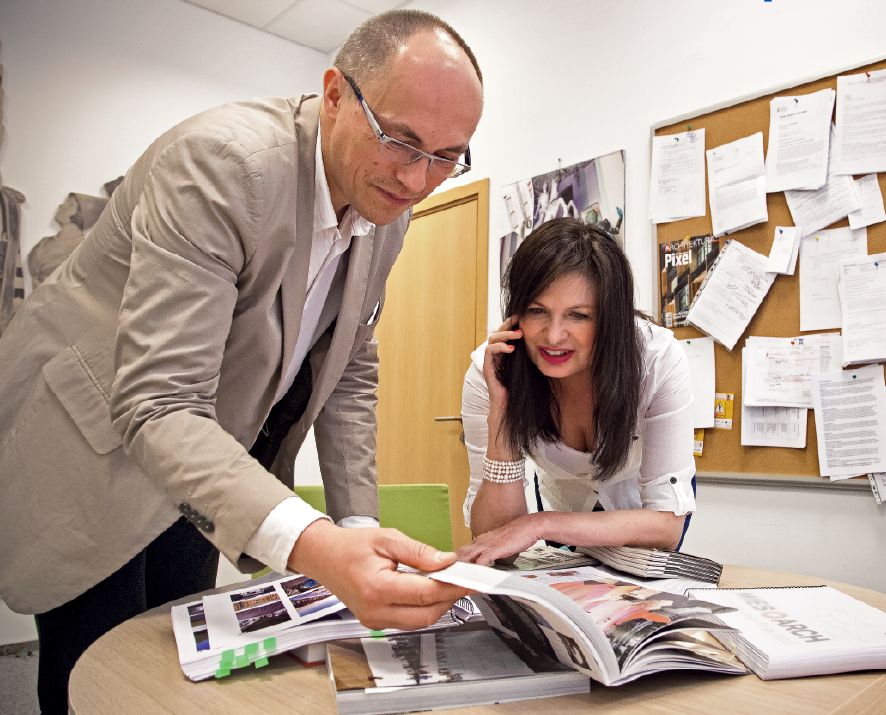 Grzegorz Stiasny: Though this year's award went to a beautiful building, an artistic fusion of engineering and architectural visions, most of the five nominees can hardly be said to be buildings in the usual sense of the word. What are they then?
Ewa P. Porębska: At the jury meetings, we devoted much time to discussing what message we would send by awarding this or that structure. The European average standard is now very high, so all contestants are really good. This year, the situation turned out to be exceptional. For the first time, as many as three public spaces made it to the finals; however, the decision was neither simple and obvious nor univocal right from the beginning, because until now, only buildings had been granted the award.
"MIES VAN DER ROHE IS A SYMBOL OF ARCHITECTURE AS ART. HE NEVER WAS A SOCIALLY INVOLVED ARCHITECT AT ALL. THE AWARD, HOWEVER, IS NOT MEANT TO SIMPLY CELEBRATE A CONTINUATION OF MIES'S WORK, BUT TO TESTIFY TO THE SPIRIT OF OUR TIMES. IT IS TO BE A SEARCH FOR SYMBOLS AND INNOVATIONS"
Since the beginning of the 21st century, the Mies van der Rohe Award has been the official European Union award in architecture. I believe it sends a certain message, a promotion of a world outlook according to the EU model.
It also is a certain world outlook presented by the members of the jury. This year's edition celebrated the 25th anniversary of the establishment of this award. It shows that Europe keeps on changing, and the award should send a strong message about future architecture. Its recipients — both architects and communities — will look for clues to try and understand what characterizes the group of structures that made it to the short list. The short list includes about 10 per cent of all nominated structures and gives an excellent idea of what's happening in European architecture. Even though it seems that there are no new emerging architectural forms, the attitude toward architecture has been changing and the meaning of this word has broadened. Especially telling is the special mention for a young emerging practice, which seems to differ from the previous ones.

As far as I can remember, awards for young architects usually went to those who presented classical buildings patterned after "mature" models.
In his text in the 2013 Award catalog, Pedro Gadanho explains in what respect these young ones differ from their predecessors and how young European architecture differs from what was before. He points to practices strongly rooted in the present times and guided by the spirit of what's happening today. Also in Poland, we have observed such a tendency. At this year's "The Young to Łódź" meeting, organized by our magazine, it was very clear that an architect's field of activity expanded. We get involved in ephemeral buildings not only because a crisis is on and we do whatever it takes to practice the profession, but also because there is a new approach to space and its flexibility, the idea that it can be temporal, and that also an ephemeral project is a sanctioned architectural activity.

Mies van der Rohe is a symbol of architecture as art that emerged in Europe but conquered the world. He never was a socially involved architect, but rather an abstract one, who looks for beauty in architecture and values understood in a traditional way. The structures awarded in the past 25 years are quite classical. I hoped that this time the choice among the five nominees would be less obvious, that the award would go to a structure that broadens the idea of public architecture, that it could also be public space, a park or something like Metropol Parasol.
A certain redefinition took place during the discussions of the jury, and I think the award will take this direction in the future. As for Mies van der Rohe, I agree with what you say. One would expect an award bearing his name to go to a sublimely beautiful form. The pavilion is exactly like this; every architect should go there at least once in his lifetime, to experience it and feel what beautiful architecture is. However, according to the official position of the Mies van der Rohe Foundation, the award is not meant to simply celebrate a continuation of Mies's work. An important and decisive factor in the selection process is that a structure manifests the spirit of our times. The jury's work involved looking for projects, which are really created NOW, right NOW. Even if some of them have a long history, as for example the Belgian market hall that took many years to be constructed, the final effect is a testimony to a concrete moment in history, to the present way of thinking. At the same time, three public spaces in the finals point to the fact that such projects play an important role. And the fact that the winner turned out to be a building? Well, it simply must have been the best.

I have not seen this building apart from on photos, but its choice from among the five finalists seems to me to be very safe and uncontroversial. It is a building for cultural purposes, i.e. one that Europe can boast about, thinking itself to be the cultural hub of the universe, but also one that would have been unfathomable a decade ago. Even if science somehow permeates architecture, what Eliasson did with the help of engineers results from ideas that were unheard-of until recently. Well, they may have transpired somewhere at universities as theoretical divagations.
The theory was proved in practice, so in this respect you are right. Giving the award to a public space project would have been an absolute breakthrough, but apparently none of them was innovative and significant enough. However, such decisions as nominating public spaces for an award which had always been dominated by buildings, sanction a trend and leave some trace. This is a turning point, which at some time in the future will be seen as a characteristic moment in the history of European architecture.

Perhaps time has not yet come to award things that belong to the periphery of architecture.
No, the real question is whether we are able to imagine how they grow old. Whether they will continue to be significant in a few years.

This is true. They cannot be so perfect as a concert hall — a structure built so many times that most of its elements can be compared and appraised. Each of the three nominated spaces received also very critical opinions. Some people believe that they have some doubtful aspects. Money wasted on an eccentric roofing that is not really a roofing in Seville, or a monumental structure in Ghent, which disturbs the harmony of its historic market place. Or an attempt at reconciling oppositions in Copenhagen. This is not a cohesive space, but one which accepts and celebrates chaos.
Public space often is a subject of controversy, this is natural and creative. It proves that local communities get more and more involved, and users feel a growing need to influence their surroundings. I wrote about the social and historic background of the three nominees and the resulting three ways of thinking about public space in a text Three Ways to Public Space in the catalog of Mies van der Rohe exhibition, so I would not like to elaborate on this subject here. In short, it is in designs for these attractive, sometimes innovative urban spaces that the 'spirit of the times' of the beginning of the 21st century manifests itself and leads to the discovery of the potential of cultural and social DIVERSITY.
In my personal opinion, Superkilen in Copenhagen is the most interesting of the three. You can hardly call it beautiful, and it is not quite understandable if you do not know its origins and perceive it only superficially, through its form. It seems populist, and it is, in a way. But if you look deeper, the idea itself and its organization are fascinating and mark an absolutely new path. The project was carried out through a partnership program of Copenhagen authorities and Realdania association, which supports charitable actions in architecture and urban planning. Apart from architects, a group of artists and landscape designers played a big role in this project. In short, the idea was to come to an agreement with representatives of 60 ethnic minorities living in one of the most neglected districts in Copenhagen to create a common space suited to their needs. And to choose adequate symbols they believe to be representative of them.
"THE FACT THAT A BUILDING WAS NOT CHOSEN BY THE JURY TO THE SHORT LIST DOES NOT MEAN IT WAS NOT GOOD, BUT ONLY THAT IT WAS NOT SO IMPORTANT FOR ARCHITECTURE ON A WIDER, MORE THAN LOCAL SCALE"
Garbage bins, benches, all this brought in from various parts of the world…
An outsider would think this is a kind of an amusement park. It also was my initial reaction: these strong colors, these blatant symbols… But in its deeper, ideal and symbolic layer, the project contributes to the discussion about the European identity and heritage. I admit this aspect fascinated me, because it opens a field for imagination, various interpretations and creative controversy. I believe that above all this project shows our heritage and European symbols to be an open set. Superkilen is an attempt at creating a multi-thread sign, showing a complex heritage, building a unique new space from scratch, but one that reaches into the memory of other distant spaces retained by residents. The entire construction process – the choice of artifacts, journeys of some chosen residents to distant countries to bring "treasures" – resembles a fairytale, a quest for the golden fleece, something that could have happened in times long past. It is a beginning of a new urban legend, a myth.
Coming back to reality, I don't know how this space going to work in practice. Hard to believe that social problems could be solved just by such an architectural activity, even if it has a broader cultural dimension. .

It is architectural idealism.
And an architectural fill-in, because real social actions surely would have required a much greater budget than the money spent on such a symbol, such a public space. However, the local authorities do not say that Superkilen is for ever. The project responded to concrete needs in concrete time. So again, here we have a certain temporality and a message, which is important today, but nobody knows for how long.
Anyway, Superkilen got to the finals, and it really is important not to judge it just by its form.

In recent years, we in Poland have nominated several public spaces too. The traffic junction in Wrocław, which made it to the short list, is not obvious architecture, but a kind of space quite different from Polish nominees in previous years, such as the Hoover Square or the Chopin Park in Żelazowa Wola. Those spaces carried an official message, they were like a poster.
The traffic junction is located in a key urban spot, it links many functions, and this makes it a structure more unique than a traditional urban square. In Mies van der Rohe Award, what counts is experiment – either in the game played with the city, or in the form. Some novelty, some discussion with what was before can be found in each one of the nominated designs.

Moreover, each one of them is representative for the time when it was built and the situation of the place or country it was constructed in. This year's Polish nominations show that we still are a region in the process of reconstruction. We cannot afford such exclusive structures as these which got to the finals. Naturally, we have built concert halls and museums, and we even nominated five museums for this edition. Some of them are a remodeling, a recycling, something that can be of value in this competition. Others are what we love to promote: our most beautiful buildings, ones we spent much money on. For example, Vitkac department store was one of this year's nominees. A beautiful, very expensive, luxurious building. The winner, Harpa, also is a very beautiful, very expensive, luxurious building.
Expensive? Four hundred million zlotys.

One hundred million euros? Not so expensive then. We spent more on our stadiums for Euro 2012.
So you see, we are not so backward, when it comes to costs… And seriously, Harpa is a fantastic symbol of what Europe has been going through. The crisis began in Iceland, and the construction of Harpa is the sign that it is overcome. A whole history of difficult public-private partnership is inscribed into this building, because it was constructed at all only due to the fact that the state engaged its money. This is the only important and large building in Iceland. In the times of crisis, many people opposed its completion, but the state took its financing upon itself. In this case, if we talk about Harpa as an icon, it is not a sign of a city, but of aspirations of the state.

Following this way of thinking, we should have nominated the National Stadium. Actually I am quite surprised that we have never nominated a sports structure. Other countries also nominate office buildings, single-family houses, apartment buildings, architecture commercial through and through, just as we do.
I think that every building has a chance to win regardless of its function. The fantastic thing about this award is that it is absolutely non-commercial, but this does not mean at all that only cultural structures should be awarded. Everybody tries very hard to select the really best projects. When I say "non-commercial", I mean the award's idealistic message – the choice of the best architectural structures so that they become models and subjects of further discussions.
Another important thing is that the nominating bodies are not only institutions, which represent the official opinion of associations, museums or chambers of architecture, but also independent experts from participating countries. You should realize that the former often tend to nominate buildings important for their professional community, to promote architects, who are important in their country or region. Nothing wrong in this, but it's good that also independent voices are heard, because it gives a broader spectrum. Curiously, some structures are submitted by four, five persons, and other by just one institution.

As an architect, I would like to know what I need to do to receive the Mies van der Rohe Award.
First you have to be nominated.
Which means that I should be promoted by my architectural chamber or association, or receive a recommendation of this independent critic, who does the nominating.
I think the most important thing is to have your work noticed by someone. Only once it happened to me that somebody pressed me to nominate his work. Every time I considered candidates, I always tried to find some cue, analyze previous winners, look for some indication that these buildings might go to the next stage. At the awarding ceremony I met several nominators from other countries, who said the same: that they tried to find projects that might win. And in the case of the award for an emerging practice, above all we searched for people, who in the future have a chance to become…

…agents of change, introducing some ferment, some new opening.
I think it quite probable that it will happen.

Among architects of structures nominated from Poland there are several young designers. There is PALK, WXCA, Łukasz Wojciechowski. It seems to me however that they tend to compete with the older generation and not look for new fields to explore.
The young generation of architects has much more contacts with foreign schools and offices than ever before; they follow what's happening in Europe and try to join in. I think we are not so distant from this award.

Maybe closer and closer. At the beginning, Poland's participation in this award was symbolic, there were only a few nominators. The buildings nominated were important for Polish architecture at that time, but they have not necessarily remained so. Initially we had churches, than we relished commercial architecture.
Because we did not really have any other kind.

But in recent years the balance has gone the other way, and now we mostly have important public buildings, and not offices, banks or villas.
One thing is very clear. Nobody goes easy on us any longer, there is no lenience toward Eastern or Central Europe, the former communist countries, no understanding that we have to catch up in architecture. I tried to lobby for a project and I was told that yes, it was an excellent design, but it could have been built two decades ago. Even if I had argued that there was no such chance in Poland 20 years ago, I would have had to agree that in Europe it was quite possible. I am saying this to indicate that firstly, the spirit of the times is very important, and secondly, that we are no longer treated like a younger sibling who is excused for many things. On the contrary, Poland is perceived as a large country with a large building program, so there must be something of interest that's being constructed.

As a member of the jury, can you tell me what it looks like from the inside? Each nominated design is presented in a very strictly defined and unified way. Is there any leeway here?
No. The framework is clearly defined, and nominators also should submit a written justification of their choice. Even before the first meeting of the jury, all projects are made available to its members, so it is possible to look at them in detail. Each member of the jury also receives printed materials with all entries and descriptions. Moreover, there are panels. Time is important, because these meetings cannot last forever… The first contact with the nominated works is the most difficult moment. In the first round of voting, each jury member makes his or her choices, without any limit. It hardly ever happens that some structure is chosen by just one member of the jury. So it is clear that architects follow some criteria, which are well-defined and self-evident already at the first contact.
"THERE IS NO LENIENCE TOWARD EASTERN OR CENTRAL EUROPE ANY MORE. WE ARE NO LONGER TREATED LIKE A YOUNGER SIBLING WHO CAN BE EXCUSED FOR MANY THINGS. ON THE CONTRARY, POLAND IS PERCEIVED AS A LARGE COUNTRY WITH A LARGE BUILDING PROGRAM, SO THERE MUST BE SOMETHING OF INTEREST THAT'S BEING CONSTRUCTED THERE"


Three hundred structures seen wholesale provide a background, against which several stand out.
Yes, these several are visible! Everybody who has ever took part in any jury where there is a certain number of architectural designs is well aware of this fact. Naturally, it is important how the buildings are photographed. But although in theory it is possible to manipulate the photos to a certain extent, if there are several of them, truth will always come through.

Step by step, you arrive at the five final projects. Do you go and see them on the spot?
This part of the jury proceedings, the field trips, is particularly interesting. All details are then visible, and some gain, others lose.

Did you have any other favorites among the five finalists? You voted for Reykjavik, or for Copenhagen?
I voted for Harpa, with conviction. It was a unanimous verdict. But these public spaces impressed me a lot, and I believe they are going to be an important element of European architecture in the future. We do not have such an awful lot of space for development any more, we do not have to erect so many new buildings; some of the existing ones will be adapted for new needs.

They can be replaced.
But something's going on between them. I believe that the focus will shift to public space, which is increasingly visible and necessary, and to landscape. And I think planning will become increasingly susceptible to influences of various, more or less formal organizations. This is happening in public space all over the world, and it is going to become ever more popular. Architects are needed to take all these independent actions of various groups and communities together, and produce one whole – create one cohesive concept of many threads. In the Architektura-murator, we published a text entitled SelfMade City, which describes the activity of groups of residents who build houses in Berlin all by themselves. Such actions were often orchestrated by people connected with the architectural profession.

In Warsaw, there was a proposal to have city sports squares built; this indicated open public thinking, an awareness that architecture is not just something to be admired, but something in which we live and use on everyday basis.
I think there are many projects addressed to communities, which do not have their own symbols, their own places, and have only now begun to learn that they can demand them and, what's more, can collaborate in their creation. I think that all these young groups that have been involved in architecture and public space, such as Odblokuj, Napraw sobie miasto or Krakow's Instytut Architektury, act for this kind of community. I do not know whether they will be given an opportunity to create something bigger, more spectacular like Superkilen, but maybe size is not so important, since architecture is made of small elements as well. And such elements and such actions have already been born in Poland.
We have young, ambitious architects, who combine various fields of design – graphic arts, arts, non-obvious architecture – but maybe they have not produced anything like the arrangement of the Red Bull Music Academy, which received the award for an emerging practice this year. A project, which has combined art and commercial aspects.
Langarita-Navarro Arquitectos carried out this design in two months. So this award also shows appreciation for the ability to quickly react to needs, even fleeting ones, while creating as perfect as possible a framework for them. It does not mean any radical departure from so-called real, volumetric architecture, as proved by the building awarded the main prize; I only want to point out that such important new threads as ephemeral architecture have appeared.

Ten years ago the award for an emerging practice went to Jürgen Mayer, who now made it to the finals, and he had received it for an establishment building of a town hall in a German city. Yes, he did merge architecture and some art, but it was an early Jürgen Mayer, not at all today's architectural celebrity.
The same goes for Wiel Arets, the chairman of this year's jury. He also once got the award for young architects, and later he built many important structures, was the dean of the legendary Berlage, and now is the dean of IIT in Chicago, the school once headed by Mies van der Rohe. In other words, the award goes to people who later on really do something important for architecture, and looking for such talents is the jury's task. It is not just a matter of awarding one exceptional project.

Let's go back to Polish nominations once more. Why do nominations repeatedly go to buildings of a limited group? Are they really the best Polish architects? Romuald Loegler was nominated six times for very different public and private buildings, then it was the epoch of Robert Konieczny, who also received nominations for his six subsequent villas. APA Kuryłowicz – five times, only commercial architecture; JEMS – five times, with Hoover Square the only public structure among them. Would you say they are indisputable leaders of Polish architecture at the turn of the 20th century?
They are indisputable leaders of Polish architecture. This manner of nominating – to show appreciation for their input into local architecture – is not only Polish. But every nominator should feel obliged to look for structures, which stand a chance in this competition, which are important for European architecture and its history. Remember that one Polish building, which previously made it to the short list, did not belong to the 'appreciation for the architect' category. It was a small church…

In Tarnów on the Vistula river near Puławy.
Nominated by Romek Rutkowski. A little church, really tiny, perfectly situated in the landscape and emanating a certain nostalgia.
We can hardly dismiss the most important buildings constructed in the relevant period. Let's remember however that most members of the jury are not familiar with these names of Polish architects we mentioned. So we cannot count on having a structure awarded just for the name of its architect…

In a way it is natural that chambers of architects or associations nominate the best or best-known buildings in the country. I was not surprised to see nominations for several structures built for the London Olympics, because they are the pride of the UK and are used for the promotion of the country.
Yes, and it should be so, because even the nomination itself for the Mies van der Rohe Award is meaningful. It makes the nominated buildings better known in the country, provokes further discussions. Such a confirmation that this stadium or that commercial building was important in this country in this period, makes an interesting record in the history of contemporary architecture. And this record stays on the Mies van der Rohe Foundation webpage. So far in the history of the award, 2467 structures were nominated, including 71 from Poland. In the past 25 years only four Polish buildings made it to the short list. Yet I am convinced that even if a building is not shortlisted, it does not mean it is not good, but only that it is not important for architecture on a wider, more than local scale, that it is not so memorable. The Mies van der Rohe Award means a search for symbols and innovations. And, as you can see, these innovations are not so awfully numerous, even on the European scale.


A kiedy Polska? Nagroda Miesa van der Rohe (polish version of the article)

In its August edition (8/2013), the Architektura-murator, the leading Polish architectural magazine, presents comprehensive materials recapitulating all the editions of the competition so far, and a special map of the Old Continent.